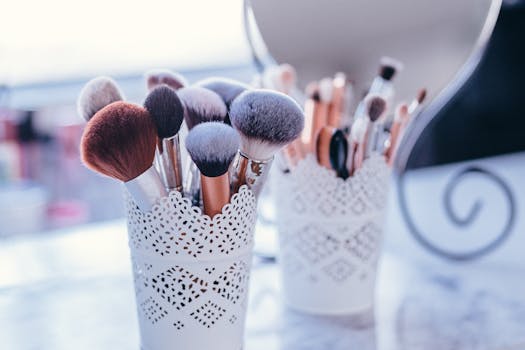 This article was sent to me by Demi Giles. The picture above is sadly not one of mine as my brushes are all a bit of a mess, but I'm going to find some time over the next few days to follow Demi's advice and give them not only a good clean but also disinfect them. All the products Demi mentions are things that you'll easily find in your cupboard too. There are a few links in the article to which will take you to Demi's website.
If you're are a make up lover then you most probably have a kit full of brushes, different in size or type. This is actually great but do you take the necessary care of them? Not cleaning your brushes every once in a while has some down sides. Every time when you put make up on your face, you add dust particles, dirt and make up from your previous use straight back on your face as well. Sounds unhygienic, doesn't it? Actually, there is something more disturbing. Tons of bacteria and dead skin cells accumulate in your make up brushes, forcing their way to your face too.
I provide you with all this information to convince you that in order to protect your skin from break outs and more, you'd better apply proper and regular cleaning treatments on your brushes. You only need to wash them at least once or twice a week. It is even better if you try to clean eye brushes after each use in order not to get possible eye infection. However, if you have too many make up brushes, all these procedures can get very time consuming. So now I will reveal you some of the most efficient and quickest ways to keep your beauty equipment clean, including not only make up brushes but make up sponges as well.
Rinse the make up brushes with warm water. It is important to do it with the bristles pointing down because you do not want to wet the base of the brush. You may ask why? Because if you do, you risk to weaken the glue which will surely make the life of the brush shorter. Only few people know that this is the main reason because of which the bristles start to fall out.
Something simple to do which you can fully trust to work is to pour few drops of shampoo or liquid soap onto the brush and then lather gently. Rinse it with warm water again and repeat this procedures as many times as necessary till the water eventually runs clear. If you find it hard to remove completely some stubborn debris, work some coconut oil into it. This should loosen the stuffed particles and make the cleaning way much easier.
Now that the brushes must be already perfectly clean, lets do some disinfection. Mix two cups of water and add one cup of white vinegar in a bowl or a bigger glass. Dip the brushes into the solution and let them stay for a minute or more (remember not to wet the base!). Rinse one more time and let them dry overnight on a microfibre cloth or a towel. See that it is not that hard to keep your brushes clean? Have in mind that it is advisable to do it every week in order to keep dirt away from your face.
I promised you to tell you how to clean your make up sponge as well. Actually, the process is almost the same as the already mentioned one. Rinse, lather, rinse, dry. Except for the absence of bristles, there is one more essential difference. If your sponge never seem to dry off, most probably it might have started to grow mould. If you have such suspicions, cut it open to see if there are any mould traces. If you do, throw it away right away. If you do not, you can keep on using the pieces.
So now it's time to be frank. Ask yourself how often you clean your make up brushes and sponges? If you do to less than once per month, lets say, then you should definitely take my advice into consideration