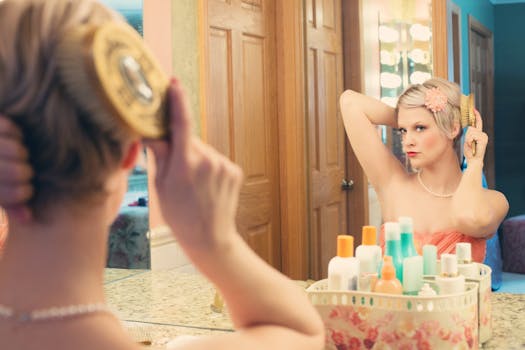 For a hair horror story and some useful tips for overbleached hair...read on
Here I am in the doorway to the kitchen at the bar I used to run, with my trademark long curly hair. The picture quality's not great for which I apologise, but you can see the important parts, my smile and my hair. (Don't worry, I didn't go in the kitchen!)
This is what happened when I decided to go blonde, to better cope with being grey and for a change...well I definitely got a change.
When I was a child, my hair was a bit like me. Wild, unconventional and uncontrollable. It was thick, dark, frizzy and, I felt, really ugly. How I used to envy my beautiful friend Joanne's fine, straight, shiny beautiful blonde hair. I used to try and
dye it blonde even as a child, using the little 'Harmony' toners (anyone remember those; little tubes of wash-in-wash-out colour in the triangular boxes?) I was so young, and I had no idea what complicated chemical processes would have to occur before my brillo pad hair could be transformed from brown wire wool to blonde wire wool. I just wanted to look like Joanne.
Later on, aged 19, I began to see white hairs appearing, and this was when I started the long road of brown box dyes. There were lots of colours to choose from, I went a shade darker than my natural hair and loved it. I experimented over the years with blacks and purples, mahoganies and chestnuts...but what I really wanted was Joanne's fine blonde hair. As time wore on, and my hair got whiter and whiter on top, going blonde began to seem for once like a sensible option.
Before hair colour removers like Colour B4 and the like, there was no high street, do-it-yourself option for colour removing, so it had to be done with bleach, unless you went to the salon, so I went.
The horrible hair you see in the picture below happened at a salon. I'm not going to tell you which one or where it is, but suffice to say, you really have to be careful about choosing a hairdresser (I hadn't had any problem with this one and he had coloured and highlighted my hair before) Be careful about what the hairdresser is willing to do. I had approached him about getting my dark (dyed) hair stripped out and lightened, but he couldn't see the point. He decided that the way to go was highlighting my hair with chunky lights, the strongest volume of peroxide used by that salon which was 40%.
He didn't blow dry my hair to check the colour, but to be fair, I very rarely use heat on my hair even when it's healthy, unless I need to, so I was happy to leave the salon without him having checked the colour for even-ness and tone. I went home, the hair dried and I realised I wasn't happy...it wasn't blonde enough. There were too many dark streaks left in the hair, and too much of the highlighted areas were still really orange, despite the application of a purple toner to lessen the orange effect. It looked pretty awful. I rang him up for advice; I think I was considering going light brown to cover the mess up, but he said come in at lunchtime, when the boss would be out, and we would 'have another go'. Oh dear, the warning bells were going off, but I wasn't listening...
He bleached it again, using foils. I could see that some of the really blonde hair was going back into those foils but I trusted him. I trusted that he wouldn't do anything to damage my hair. How wrong I was. The foils came off half an hour later, along with most of my hair. We toned the hideous yellow orange mess down with a medium blonde, and instead of seeing the process through to the bitter end, he bottled it and asked the salon junior to blow dry my hair using the volumizer to retain the curls. She was silent as she worked, knowing that it looked horrendous and wondering why what remained of it wouldn't dry. Clearly she'd never before witnessed what happens to hair when it's been destroyed by bleach; it won't dry, won't curl, won't do anything except lay there like limp noodles. I didn't stop to complain, I was too embarrassed. Walking out of the salon to my car was awful. I remembered a disastrous hair cut at age 14 when I phoned my mum to ask her to drive me home. She had just put the car in the garage and refused to come out, and I refused to leave the salon. In the end, she walked down to the salon with my woolly knitted winter hat and we walked home together with me in my bobble hat in August. How I wished I could phone her up to come down with that hat again.
Growing the damaged hair out was agony. It wouldn't do anything, and I didn't dare touch it with colour or heat. I wore a LOT of headbands and hats, for many months, and I was too angry and upset to set foot in a salon for 18 months. When I did, I had a little trim, and my curls started to return. I dyed it red, and felt much more like myself. It took a further 6 to 8 months for my long hair to return.
So I have every sympathy if you find yourself in a similar position...and I've compiled a little list of tips to help you. You're welcome. x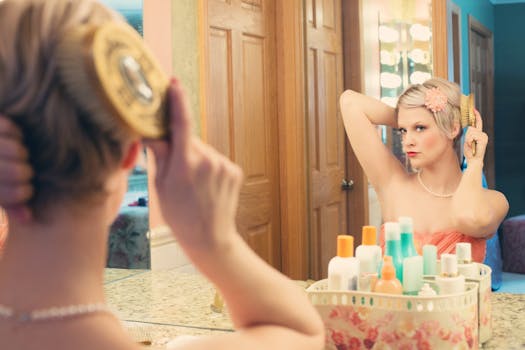 How to cope if you over-bleach your hair
First of all, don't panic, it's only hair. I know I'm saying that months down the line from my hair disaster, but seriously, just remind yourself that things could be an awful lot worse. Is there someone who you can trust, and call for support and to go out and purchase supplies if necessary?
1.
Purchase several really good quality products specifically made for damaged hair, and use them religiously. You will need: a really good restructuring shampoo, conditioner, deep treatment for weekly use, and a leave-in restructuring conditioner like Damage Remedy from Aveda or Anti-Snap from Redken. This will be expensive...but mistakes are, and you really need a name you can trust. Optional extras might be a nice serum to give the illusion of softness and shine, but a mineral based product can be drying, so good old coconut oil can do the same thing.
2.
Be really, really gentle when you do ANYTHING with your hair. Try not to shampoo too frequently, and when you do, lather it at your scalp not the lengths. As you gently rinse in cool water, allow the shampoo to just wash over the lengths. NO vigorous rubbing. Use your conditioning products every time as per the instructions, and when you've rinsed...pat dry.
3.
Don't comb or brush wet hair. Try to not do either too much when it's dry too, if you can help it. I found plaiting my hair helpful as it got longer, because it didn't tangle, particularly at night or outside in windy weather, and it's a gentle way of keeping the hair protected without straining it. Buns, pony tails and the like can put too much stress on certain areas.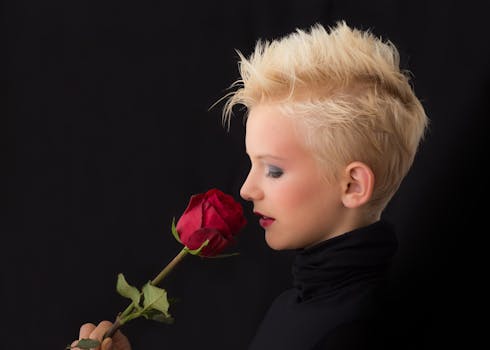 4.
Consider visiting a good salon...get recommendations, you might have to travel. Aveda salons are great as they only use gentle plant products and the staff have extensive training, with the support of knowledgeable salon directors. Think about getting a short crop...short hair can be really liberating and sexy. You might not have wanted this change, but a great stylist will know what will suit your face, and if there's enough good hair to make a decent job of it, you might even like it!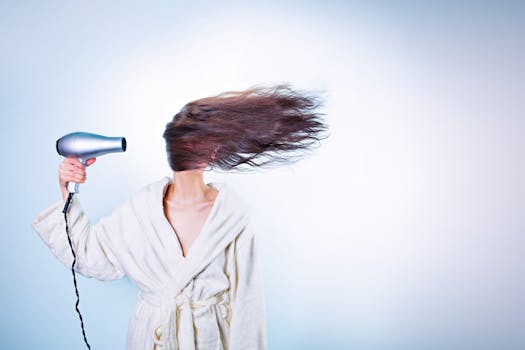 5.
This should go without saying...but NO!!! Just no heat-styling or drying. No hairdryer, no hot brush, no straighteners. Sorry, but if you try it, like I did (there really is no end to my stupidity) you will just end up with yet another handful of hair, that used to be on your head.
6.
Hair can heal. No, hear me out, I know it's dead, and yours is even deader than dead and it's going to take either a miracle or six months to pass before you're happy with it again, but if it's bleach-damaged then there is a little bit of healing that is going to take place over the week, if you let it. During the peroxiding process, the natural oils that coat each hair shaft and keep the cuticle cells flat, are removed. Over the period of about a week, the scalp will produce more oils, which will travel down the hair shaft and soften and smooth it. It's not miracle oil, but it does make a bit of improvement of the condition of whatever's left. Another good reason to leave as long as possible between shampoos, and to only use shampoos for damaged hair.
7.
For lots of women, and some men, the appearance of their hair can be a factor affecting confidence and esteem. I took my very long, very thick curly hair for granted, and even got a little fed up with being Jil-with-all-the-hair. I was of the opinion that to care too much about your hair showed weakness, vanity and shallowness, hence I was a little too careless in leaving it in the hands of an inexperienced hairdresser, and a little too cavalier when it came to trying new cuts and colours. Well, it took a couple of hours to ruin it, but it was more than a year before I felt that I could enjoy what I had again...remember my hair was super long and thick though.
I felt vulnerable and 'not me' without my hair, and suddenly my tomboyish style became too masculine without my locks. Nothing looked right, and I suffered a little depression over the months following my dyeing and cutting spree. It has made me feel very compassionately towards those who lose their hair to chemotherapy or alopecia, as they had it far worse than I did in all ways. So if you're feeling this way, do seek recompense if this was a professional's mistake, and do find a shoulder to cry on. Be extra gentle with yourself. I hope this helps anyone who is thinking of doing something radical with their hair, to think very carefully about it first, especially something chemical and damaging. If its too late and the deed is already done...stay strong, it will grow back.
8.
Hats, scarves, head-bands, wraps, hair-pieces, half-wigs full wigs, extensions (if your hair is strong enough) falls...the list goes on. Make use of different ways of hiding/disguising or just taking the eye away from the damage.
Have you damaged your hair? Or has this made you think twice about doing something drastic to it? Tell us all about it in the comments!